The Recycle Revolution Girl
Meg Bell, the radiant young woman in the forefront, was Office Manager at Texas Campaign for the Environment ("TCE") when this, our most iconic photo, was taken during the Greenville Avenue St. Patrick's Day Parade recycling effort in 2009. Dozens of folks, including friends, family members, and those crazy kids from TCE (where Eddie had interned as Assistant Campaign Director prior to founding RR) braved the wind and cold that day to volunteer alongside us, inspiring us with camaraderie and support that we've never forgotten. RR was less than a year old then, and the economy was deep in recession; none of us had any idea whether this company would become a real "thing" or just a misguided flash in the pan. We like to think this photo captures the optimism and can-do spirit of our start-up years. Here's to hoping that we never stop believing in ourselves or this community. We've always done it together.
Super Rosa (and the Meta Revolution)
We like to think we recognize a revolution when we see one. Although others had boldly tried, before Rosa Maldonado walked in our door in 2015, we'd never--in 7 years--had a female employee stand up to the task of full-time in our warehouse. To the uninitiated, the work within our walls is heavy, hard, hot, cold, and often frenetic. Despite constant evolution and mechanization on the collection side of our operation, the operation within our warehouse remains largely manual (for reasons we'll go into later), making it physically demanding. Tiny (5'1") as she is, Rosa is a powerhouse in our operation because of her unwavering optimism, energy, resourcefulness, and drive to achieve. She doesn't just work hard, she works smart, teaching us all a thing or two about our own limitations in the process. Today, 3 years after Rosa walked in, our warehouse staff is 75% women. That's what you call a revolution, folks.
Weather is a Factor
As any North Texan can tell you, the weather around here is a true mixed bag. About 2/3 of all our work is done outside, be it out on the road running routes or back at our Center moving bales around the "yard". Rain, heat, snow, sleet--they all play major factors in our day, but rarely prevent us from getting the job done.
Recycling Since Landfilling was Cool
It sounds like just another catchy tagline (and we've occasionally capitalized on that!), but the truth is that when we claim that we've been "recycling since landfilling was cool", it's 100% true. Sadly, if we go by the numbers, landfilling still IS cool in North Texas--much cooler than recycling, composting, or any other resource recovery alternative. The fact that we've been able to make a living by bucking that trend is, above all, a testament to the pioneering businesses we partner with, and to our ability to find them and provide them with the most outstanding service we can. Here's hoping that one day soon recycling is as cool as landfilling.
Patching Holes
In May 2017, we relocated our offices and warehouse for the 4th (fourth!) time since we started out in Old East Dallas in 2008. Each new location has been an improvement, but the toll of moving (especially to older industrial properties) is real: during the first year, there are always leaks to stop, holes (in the concrete) to patch, walls to paint, lines to fix, and so much more. It's always awesome to witness an old building come back to life, though. :)
We Do (Reverse) Logistics
It's funny to think about our company like this (even after 10 years in business), but the reality is that RR is as much a reverse logistics company as we are a recycler. We operate up to 100 routes (800 stops) each week during regular business hours, traveling as far west as Fort Worth, as far east as Greenville, as far south as Midlothian, and (very occasionally) as far north as... Oklahoma?! We like to tell people "we're like UPS or FEDex, but in reverse". :)
We Do It as a Team
We've always had an all-hands-on-deck approach when it comes to tasks around the Center, but since Maria took the reigns in 2014, it's become official: all of our employees--even Drivers and office workers--are cross-trained to sort, material handle (using forklifts, skid steers, pallet jacks, etc.), wash bins, assist Community Drop-Off patrons, bale cardboard, and even co-pilot routes. When it comes to driving, though, only our Drivers have that privilege and responsibility.
Our Chickens
We've happily had chickens around our Center since 2011, when Maria rediscovered her childhood love for the little gals (sorry, no guys allowed!). To be honest, it can be really frustrating to have to chase chickens around our 1-acre facility (full of chicken-sized places to hide!) on Friday at 4pm when you're just ready to go home. On the flip side, we get to eat a lot of very fresh eggs. :)
Glass Bottles: The Lost Mission
Glass bottles are a big part of our story, and have been a fixture at our Center for as long as we can remember. That's because RR started out with the intention of being the go-to glass bottle recycler for local bars & restaurants. As we've learned over the years, however, bottle recycling isn't something that most bar and restaurant owners value enough to pay for: as of January 1, 2017, just 11 of the estimated 1,168 alcohol-serving establishments in Dallas recycled their glass bottles. The numbers were so shocking and compelling that we started an awareness campaign called #RaiseTheBarDallas the same year. Hopefully it helps. Otherwise, we're confident the City will do something to incentivize the practice eventually.
The Grandbabies
RR is a family-owned company, so please excuse the shameless pics of these (beautiful! smart!) little guys adorning our site. That said, there's much more to these (beautiful! smart!) warehouse-rascals than meets the eye. As many of our peers in the growing North Texas green industry will attest, the best part about our line of work is knowing that our efforts are for the good for others. Having (smart! beautiful!) grandbabies run around the office and yard from time to time is a reminder that the work we do is about so much more than ourselves. We are, above all, a group of people with a purpose.
We (Still) Handwash Our Bins
We didn't have the necessary funds to buy a pressure-washer when we first started out in 2008, so we cleaned our bins the old-school way: with our hands, a hose, a towel, and a 5-gallon bucket of soap. We weren't necessarily proud of it (or happy to do it!), but we did it anyway, because we wanted our bins to be genuinely clean and free of residue and smell each time we delivered. Fast-forward a decade to 2017, and we not only have a pair of high-powered pressure-washers on hand, we're in the process of engineering a much larger, mobile one that will enable us to wash bins (with no run-off) on our Clients' respective sites. Funny thing, though: we still frequently find ourselves handwashing bins at our Center. In the end, it seems the surest way to guarantee the quality we've become accustomed to is to do it with our own two hands. It may not be the most efficient way, but it's not something to be ashamed of, either.
Diversity
RR has never had an official diversity policy, but we have always been blessed with an incredibly diverse staff: we're multi-ethnic, multi-gender, multi-lingual, and multi-generational in both the warehouse and our offices, making for a uniquely rich and enlightening culture. The ties that bind us: diligence, optimism, resourcefulness, dedication, and a desire to work at a place we believe in. Well, that and tough stomachs (it takes a special person to stand the smell of compost in the morning). :D
We Make Things Work (because we've had to)
Of all our shared values at Recycle Revolution, resourcefulness is the one that has always stood out the most to me (Eddie). If you've never had the unique privilege to work at a small organization dedicated to making big change, it's inspiring to witness what can be done with the right amounts of resourcefulness, optimism, diligence, and dedication. When our staff re-purposed a previously stagnant 18-wheeler bed into a sturdy, multi-tasking outdoor work platform last year, I kept thinking to myself: this type of (outside-the-box) thinking and will to experiment isn't a coincidence... it's what allowed us to get this far in the first place.
RR Crew, X-Mas '11
Hands down, the best thing about working at RR is witnessing the unlikeliest of lives cross paths so meaningfully, if for the shortest of moments. Here, from left to right: Brenda, O.D., Thad, Jordan, Xina, Terrance, and Pat; unforgettable members of a crew of Revolutionaries that stewarded RR in 2011-12. Thank you for your hard work and the wonderful memories!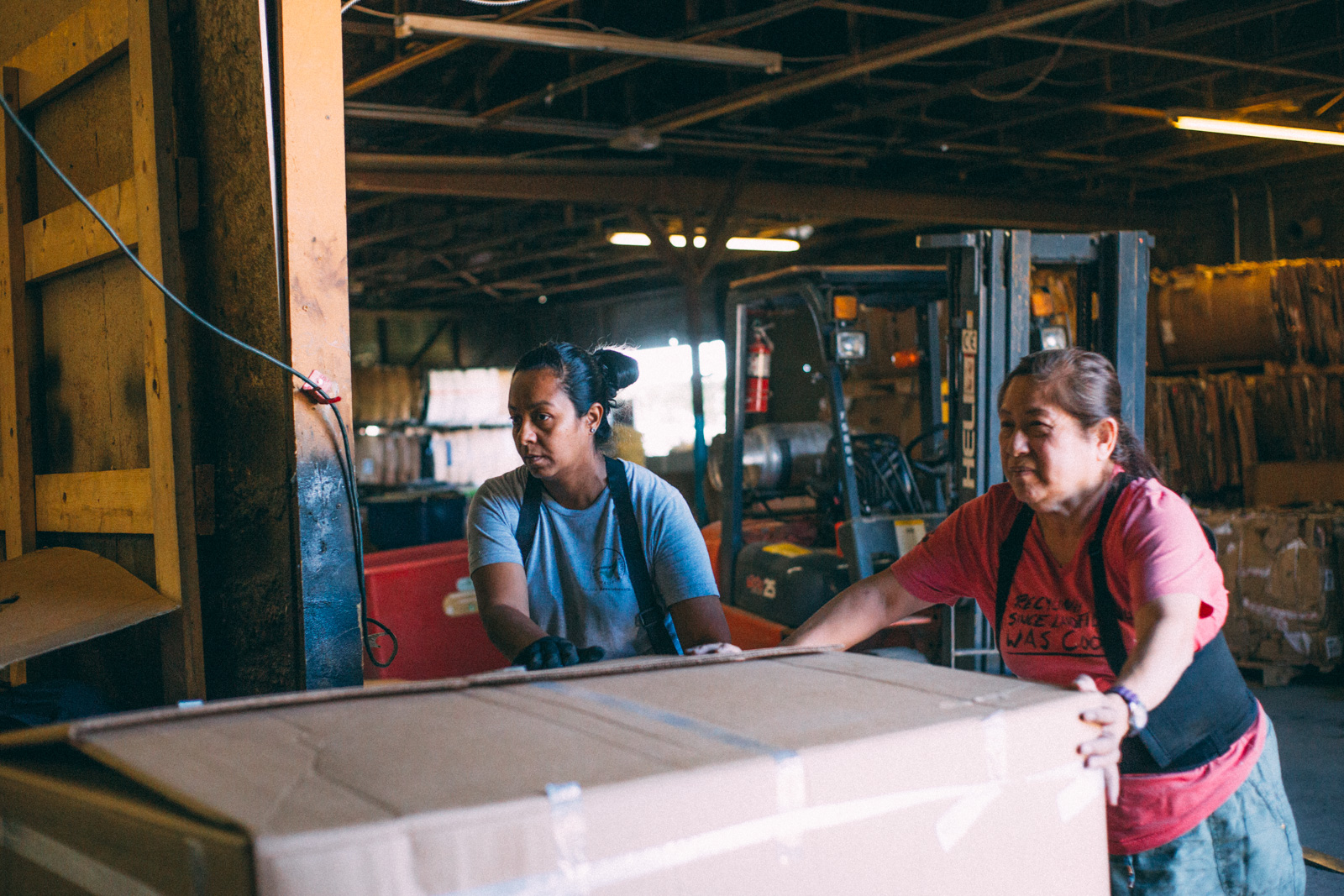 Sisterhood
Recycle Revolution is a Woman-Minority-Owned Business enterprise (WMBe), a true rarity in our industry. We're also a family-owned business, which is actually pretty common in the recycling industry.
Our Drivers are Our Lifeblood
In a lot of ways, RR's operation resembles that of a logistics carrier (like UPS or FedEx): we visit hundreds of establishments around the Dallas-Fort Worth Metroplex each week, often making as many as 800 "pick-ups" during regular business hours. You can understand, then, why we value our Drivers so highly. Not only are they expected to be prompt, friendly, fit, and knowledgeable about the local recycling process, they're also expected to safely and courteously navigate large vehicles across North Texas for 8 hours a day. Then there's the little things: double-checking routes, loading and unloading trucks, and (of course) learning about and interfacing with our Clients. In our humble opinion, all professional delivery drivers are under-appreciated. We do our very best to appreciate ours.
The Time We Recycled 10,000 Uniforms
It happens every year: just when we think we've seen it all, a Client boldly comes to us with a request that shatters our pre-conceived notions of the world and makes us laugh (nervously). In 2011, that request was toilet recycling (never again!). In 2015, it was 10,000 cotton uniforms, each conveniently adorned with a single nylon patch, which had to be removed by hand prior to recycling either material. In 2017, it was cocoa powder, candy bars, and taffy (any day!). What will 2018 bring? We wonder and anxiously await... :)
Our Warehouse has Soul
It's safe to say that most of us here at RR enjoy "stuff with soul"--which, if you think about it, probably isn't much of a coincidence. After all, we work at a Center full of all sorts of discarded things, many of which are funny, fun, and/or full of character. We have an amazing collection of books and bumper stickers, for example, not to mention an enviable assortment of posters and calendars. (Need a cooler for your camping trip this weekend? I'm sure one came in today!) We've built furniture out of old pallets, wash racks out of recycled beams, and platforms out of old trailers. The end result: a place with a lot of character. We like to call it "soul". :)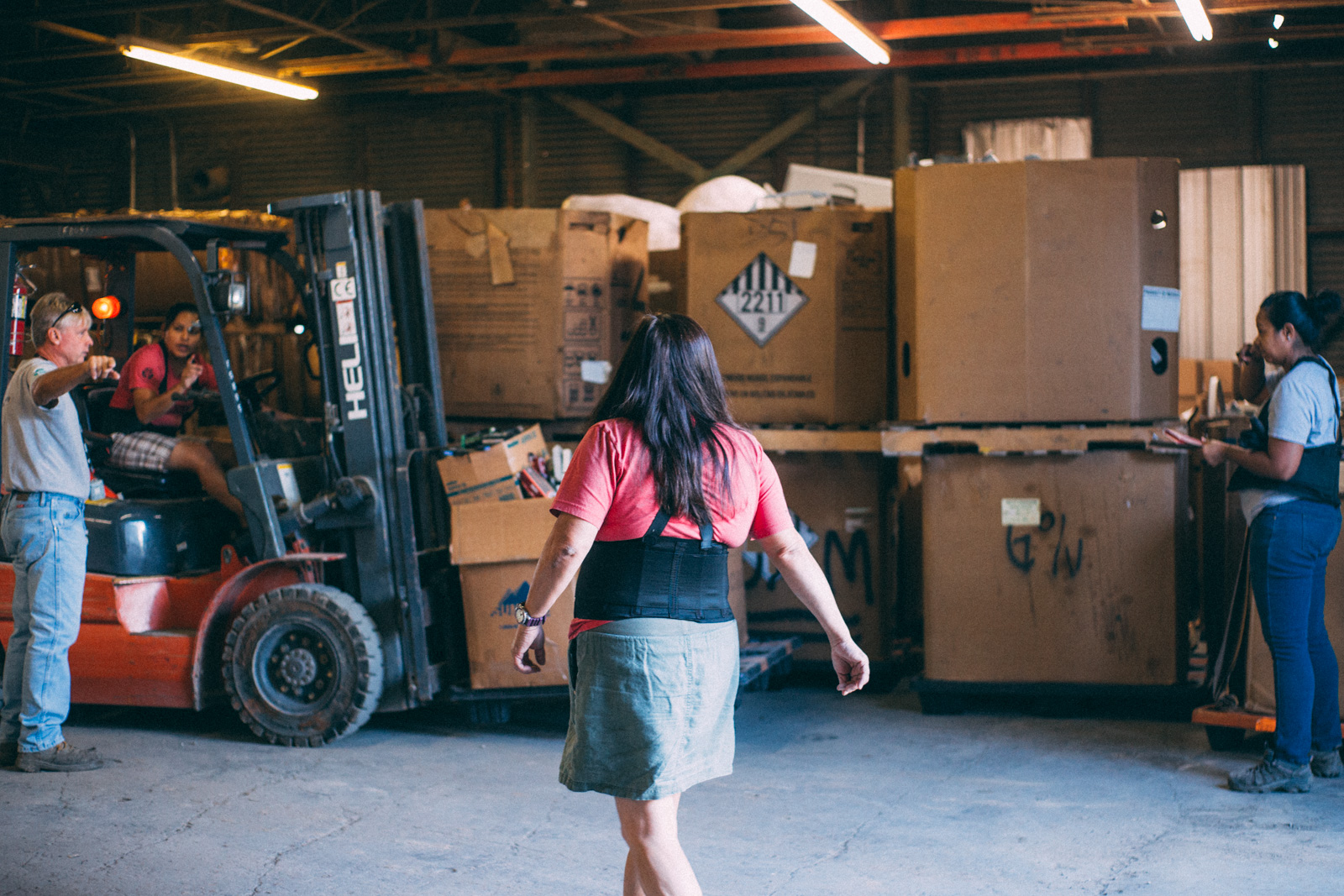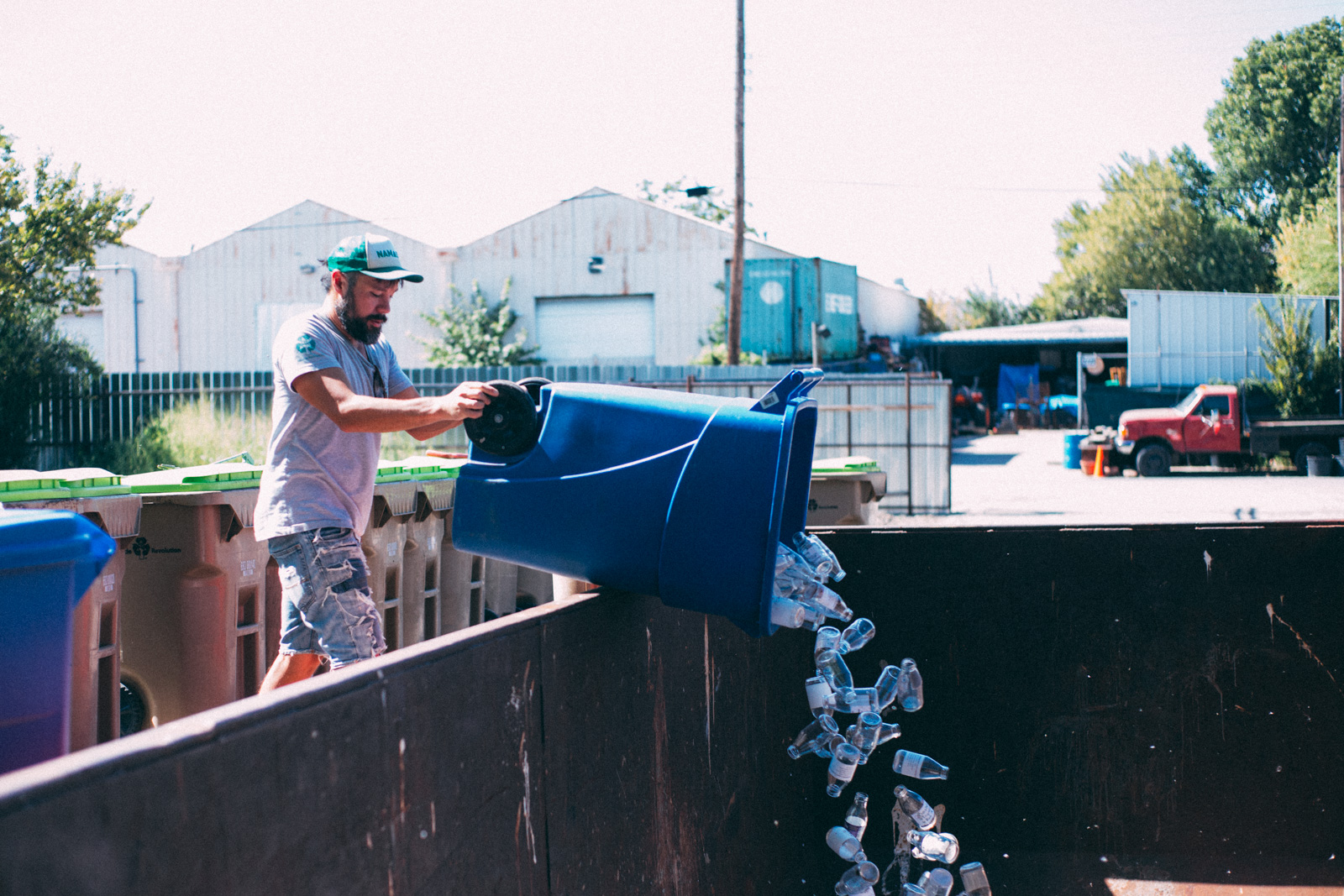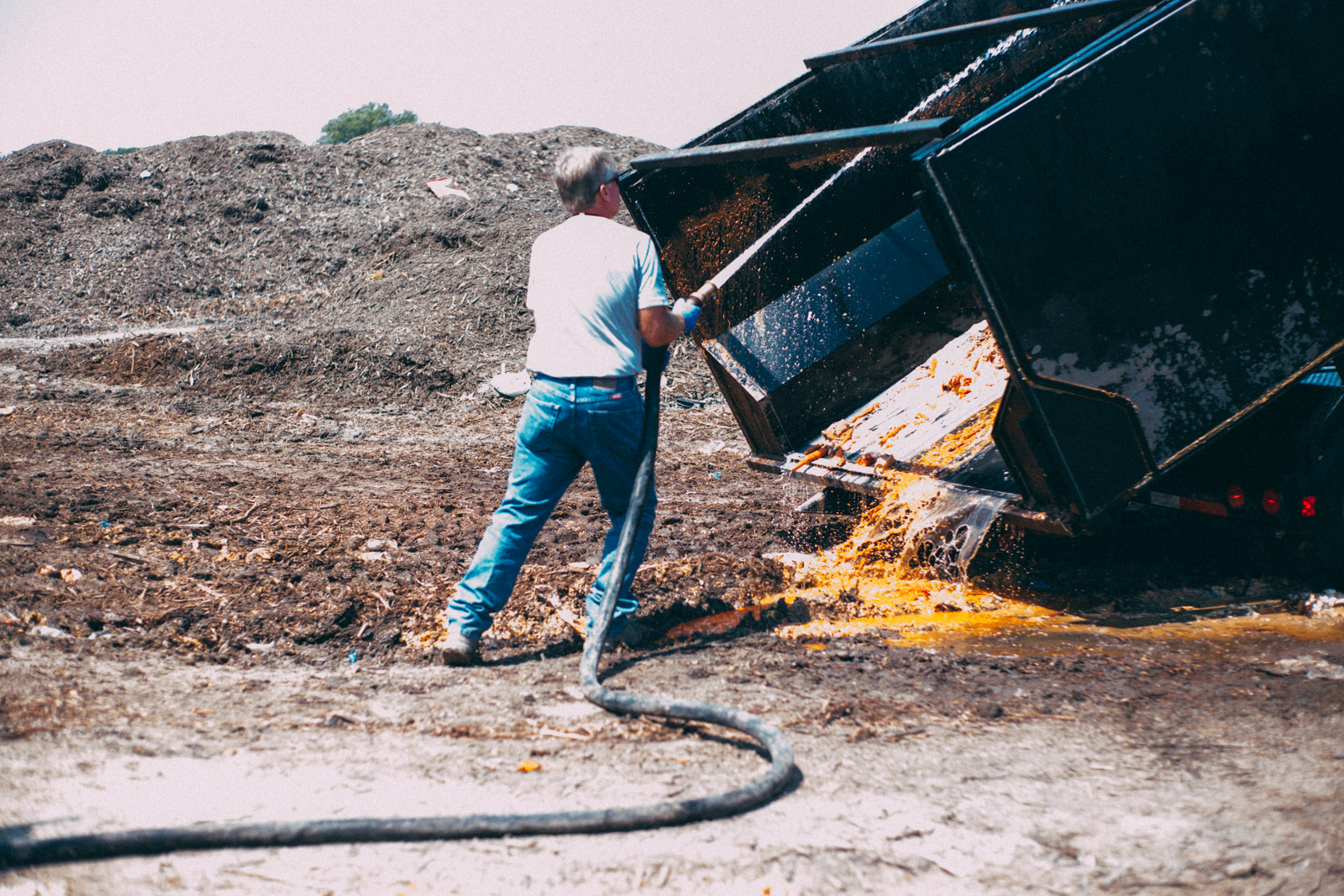 Innovative by Necessity
Resourcefulness is one of our founding values and greatest attributes. Practically speaking, our ability to think outside the box and create solutions using the resources at hand is what has enabled us to stay at the forefront of our industry. One great example of this is our food waste collection program, which has historically relied on the use of vehicles and containers not ordinarily used for this application. While we've made it work--and made it work well--we're happy to say we're graduating from that: beginning in January 2018, we'll be employing our own custom-designed truck to make "compost" pick-ups more convenient for everyone, using lessons we learned the hard way to make a better way moving forward. Being resourceful is admirable, but sometimes convenience is nice, too. :)
Cleaning Therapy
There is a time-honored tradition of one (or more) of the Lott clan members cleaning the warehouse at the end of the day. Sweeping 20,000 square feet (27,000 when we were in Deep Ellum!) of dusty warehouse floors with a push-broom may not sound like a good time to most folks, but with the right attitude, it can be peaceful, therapeutic, and meditative. RR's good friend Stephen once referred to it as "cleaning therapy", and the term stuck. Cleaning therapy can be one of the best parts of the day, especially if you have lots of chores to do once you go home. That said, we never advocate making a mess on purpose. :)
Family Lunch Wednesday
Every Wednesday at around noon, our staff sits down to enjoy a meal together. The tradition began in 2012 and has become a priority, with routes scheduled at certain times during the day in order to enable the meal. What's for lunch? It's anyone's guess. It could be simple, elaborate, or plain old take-out, with office-cooked meals (with the ingredients usually sourced from local green grocers) being the favorite. The family that cooks together, cleans together, and this family composts together, too. :)
Recycling Since Landfilling was Cool