We're Hiring!
Attention, Dallas! We're looking for a couple of fun, passionate, and reliable individuals to fill current openings for FULL- and PART-TIME DRIVER positions. Here (below) is what applicants can expect from this fun and challenging position.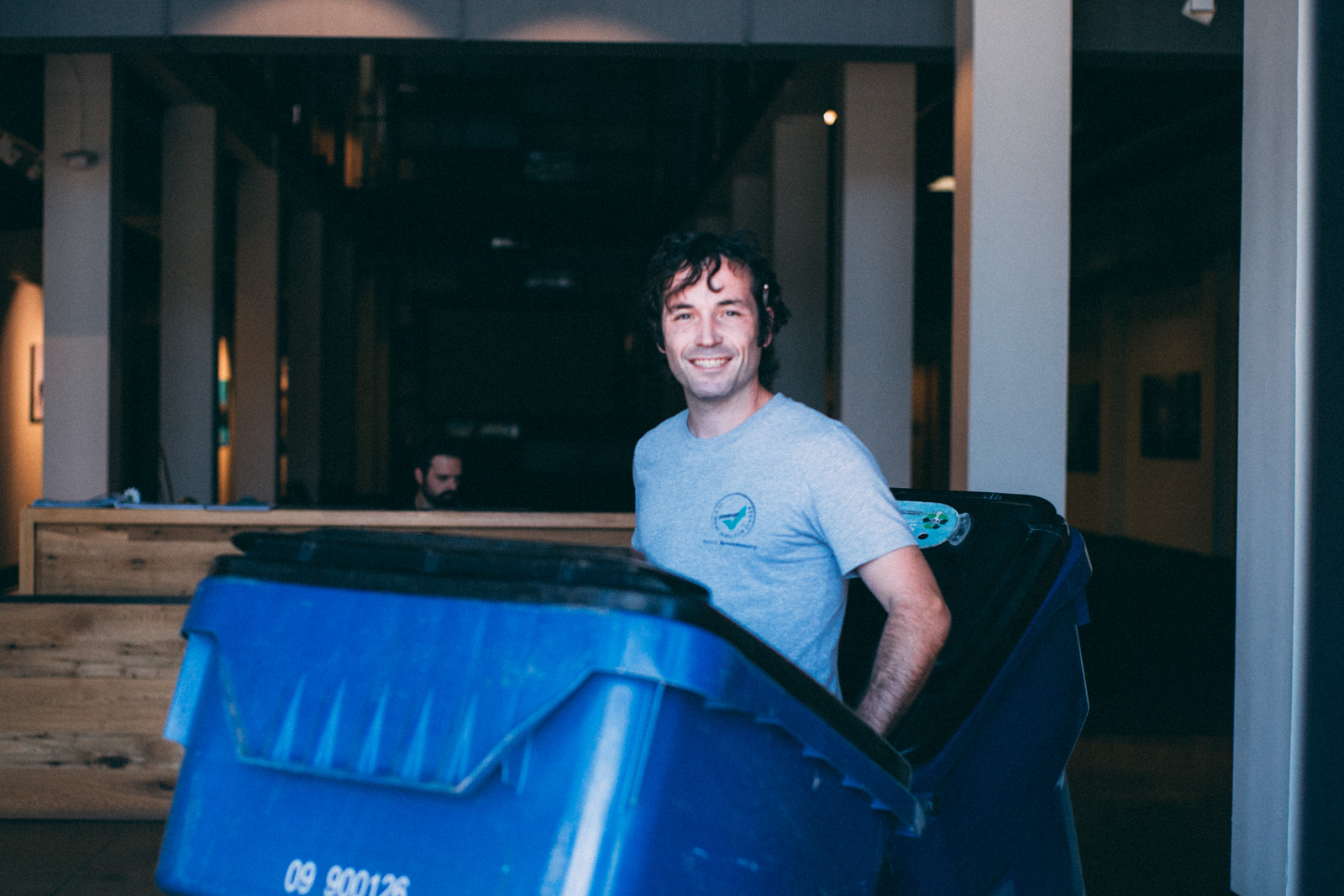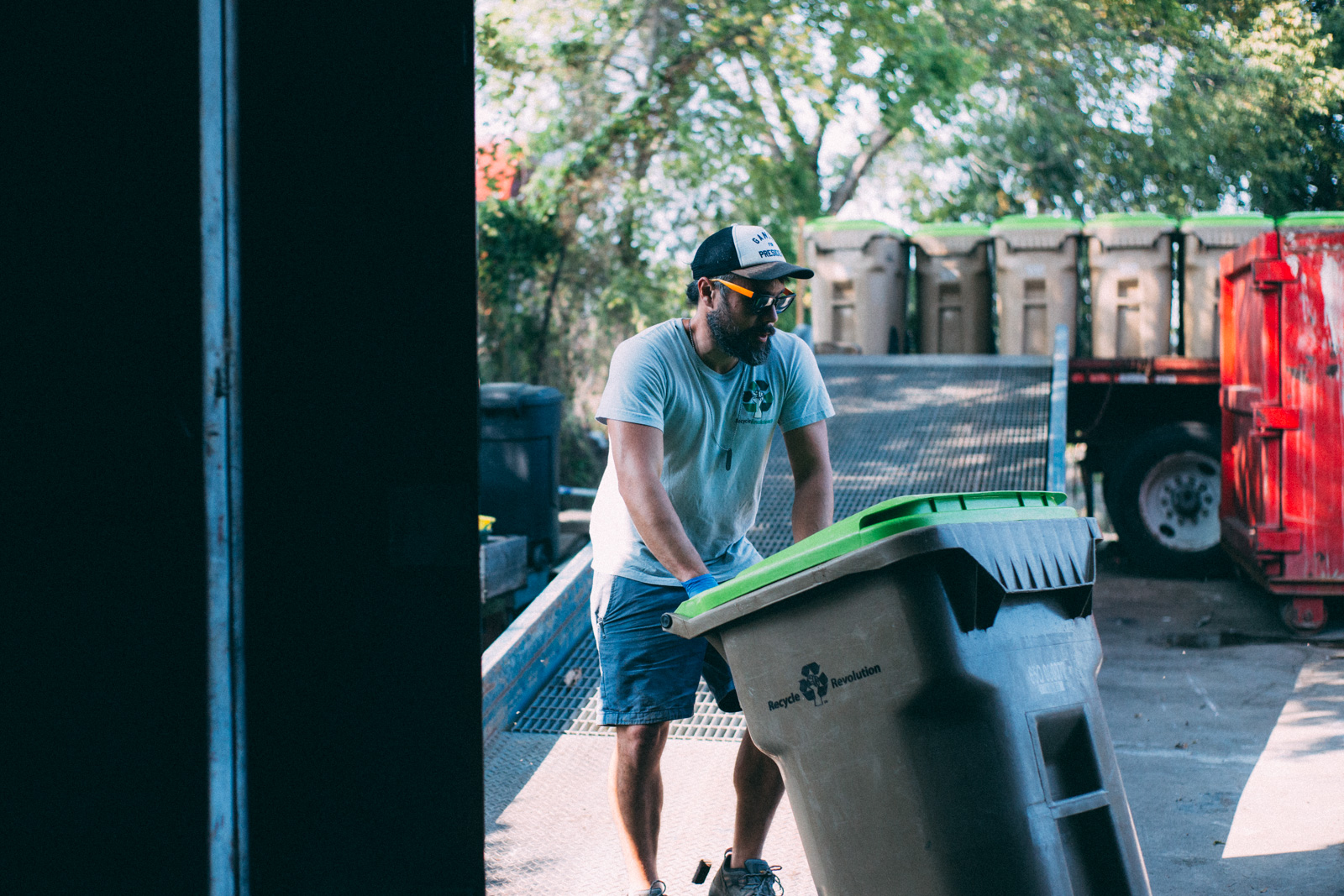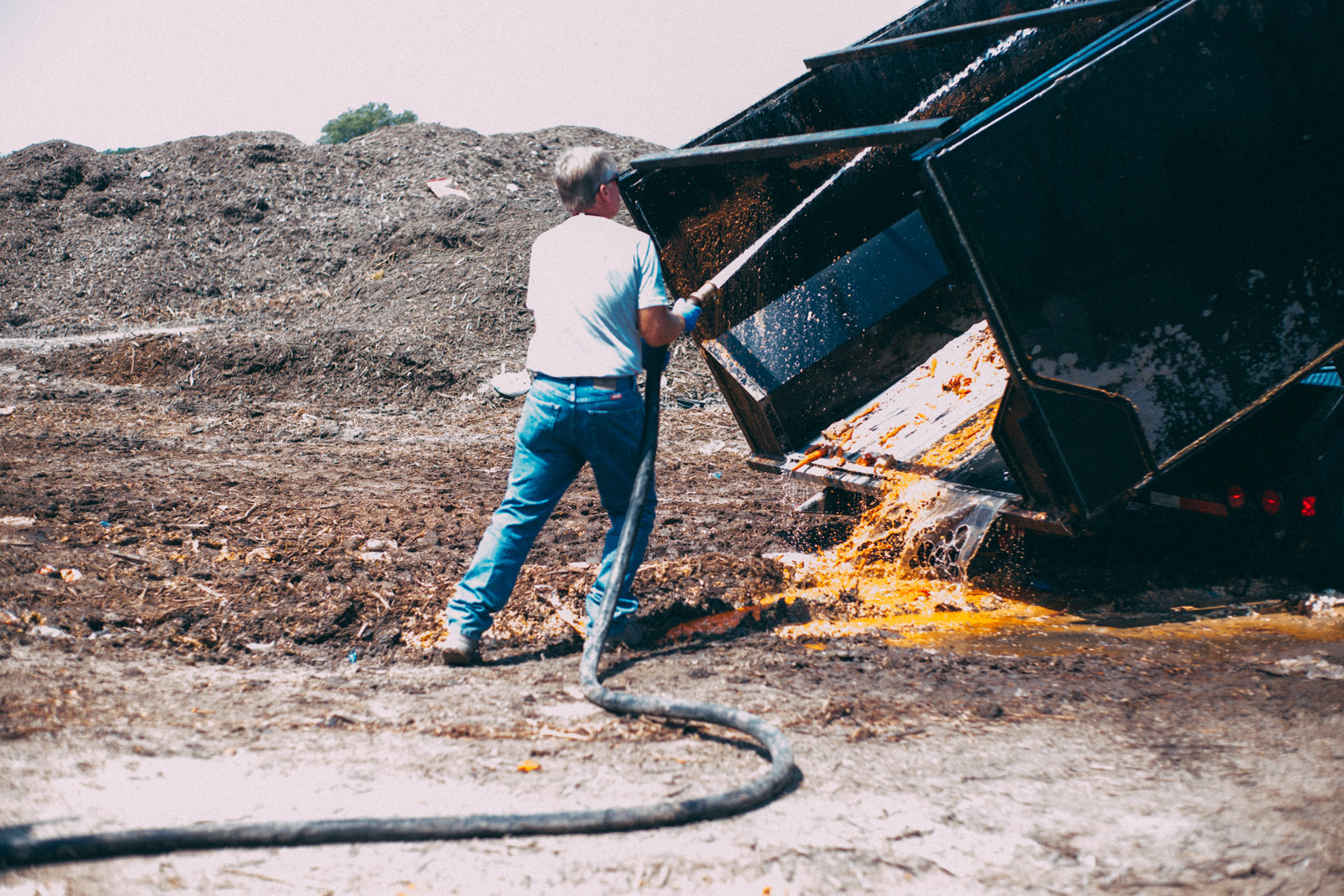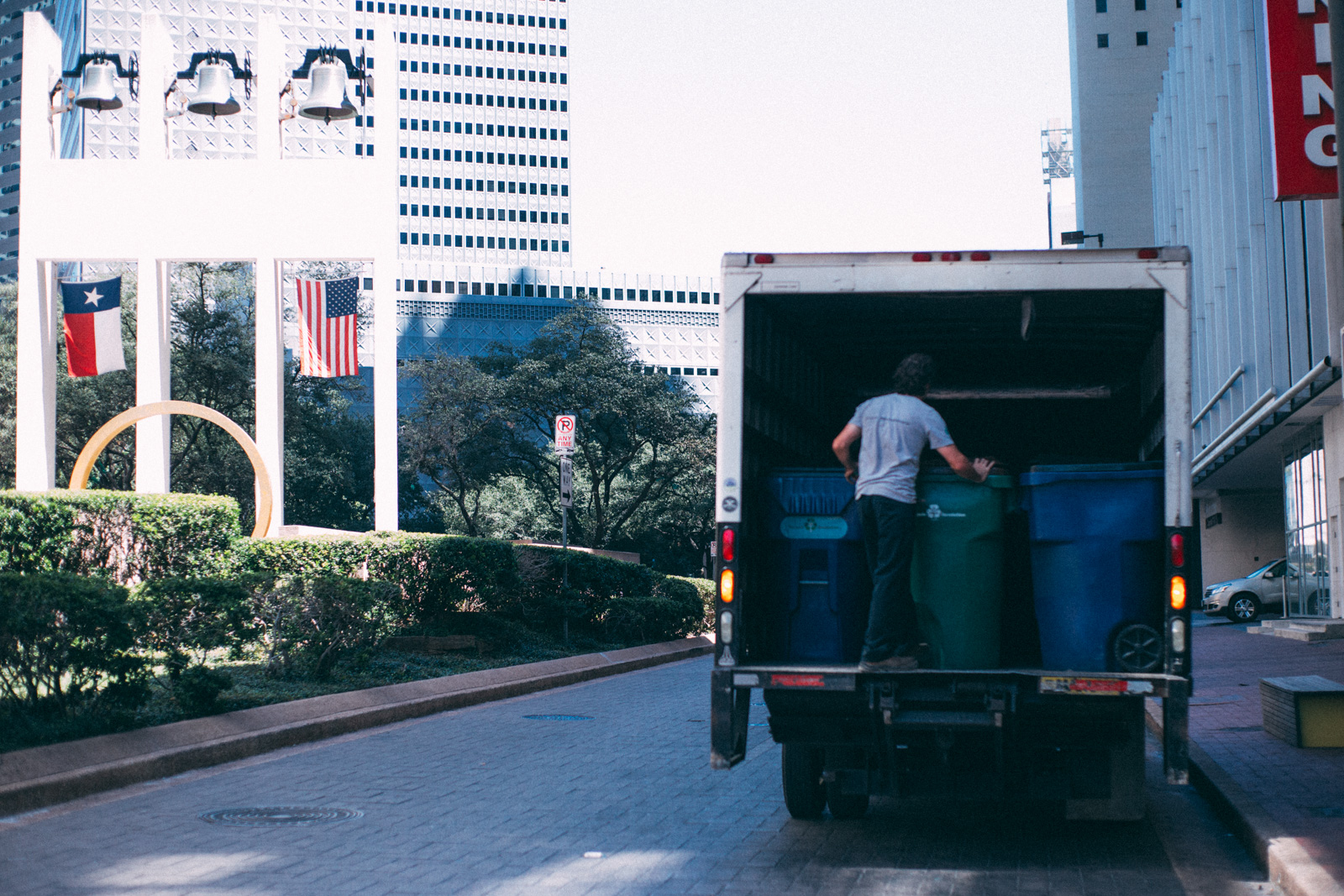 Overview
Being a Driver at RR can be a fun, educational, and rewarding experience. Individuals that maximize their time in the position will learn not only how to safely and efficiently operate their vehicle, but also the business of logistics and how the recycling and composting processes work. Due to their constant exposure to RR's core services and our Clients, our Drivers often find themselves in excellent position to grow within our company.
Driving at RR is a physically challenging position: Drivers push, pull, lift, and handle heavy containers and materials throughout the course of each day, in all types of weather. Driving can also be a mental workout: in addition to helping our Dispatcher coordinate routes, our fleet consists of vehicles (including 'box' trucks, pick-up trucks, trailers, and side-load vehicles) that are larger and more difficult to handle than typical passenger vehicles. Safely maneuvering these vehicles through crowded (and even empty) streets requires patience, concentration, and a balanced temperament . As the members of our team best positioned to interact with Clients and the general public on a daily basis, Drivers at RR also have a great responsibility to represent our brand, staff, and values to Clients and the general public.
Applicants are not required to have had any prior professional driving experience in order to apply for the position, but they must have a local driver's license (Commercial Driver's Licences are welcome, but unnecessary) and an excellent driving record. They should be in good physical condition and have a friendly, respectful, and well-balanced disposition, as there is zero tolerance for reports of "road rage". Drivers are expected to be punctual and prompt and have access to reliable transportation to and from work, as there is little tolerance for tardiness given the logistical importance of the position.
Driving at RR is a fun and rewarding experience that places individuals in direct contact with responsible resource recovery practices and often helps them get into great physical shape. Many of our best Drivers had no experience driving professionally or working manually prior coming to RR, but were willing to put in the hours necessary to excel. If you or someone you know is qualified and interested with us, we'd love to hear from you!
Requirements
Be at least 24yrs old
Valid Texas Driver's License
Good driving record
Reliable transportation to and from work
Be physically fit enough to load, unload, and roll heavy (up to 250lbs regularly; up to 500lbs occasionally) containers on a daily basis
Friendly, patient disposition--no road rage allowed!
Fluency in English
Must pass drug test
Strong verbal and written communication skills
Primary Responsibilities
To carry out the safe, timely, and friendly delivery of RR's good and services on a daily basis
To represent RR and our staff, standards, and values to both our Clients and the general public
To keep designated vehicle(s) in clean and optimal working order
To communicate well with co-workers and behave in a way that is respectful and reflects RR's values
To carry out other duties as requested by the Collection Manager, Dispatcher, and other Managers
Specific Duties
To drive designated vehicle(s) to make collections
To swap out new (clean, empty) containers for full ones on Clients' sites
To load and unload containers and/or materials at RR
To operate liftgates, balers, forklifts, and other material handling equipment as necessary
To troubleshoot at collection sites when necessary and acceptable
To operate the vehicle to make deliveries
To perform heavy lifting of containers and other equipment
To obtain payments, signatures, bills of lading, and/or other documentation from Clients when necessary, and to give them receipts, as requested by Collection Manager
To program the GPS as requested in order to complete routes in an efficient manner
To perform other Operational tasks as requested by management
Compensation
Drivers at RR receive paid training for up to one (1) month at $10/hour, followed by a starting hourly wage of $12.00/hour. There are regular opportunities for raises and performance bonuses following evaluations each 6 months thereafter.
What skills do I need and how can I get promoted?
First and foremost, you need to be a safe and considerate driver. To put it succinctly: our business, Clients, and staff all depend on our trucks being on the road, day in and day out, which means that safe and responsible driving is of the utmost importance. Additionally, other drivers on the road will expect you to handle your vehicle extra courteously and responsibly since you are handling a large commercial vehicle. You should always observe all speed limits and obey all street signs. While it's important to us to deliver our services on time, we do not believe in rushing while on the road. Arriving to work on time, communicating regularly with the Dispatcher regarding your routes, and taking appropriate breaks during the day will go a long way towards ensuring your success as a safe and timely Driver at RR.
You should always be kind, hard-working, and have a positive attitude. It helps if you have dedication: we have a strong history of employing and promoting individuals that care deeply about the environment, the community, their job, and/or our company—preferably all of the above! If you've never worked at a small business before, you may be surprised at the importance of your role with us and the impact that your presence has on co-workers, our operation, and our business as a whole. Each and every one of us at RR is important beyond our respective position. Once you're here, you're part of the team!
Drivers at RR must be at least 24 years of age and hold a valid Texas Driver's License. We conduct driving record checks on all applicants, and strongly prefer that you are accident- and ticket-free for at least three (3) years prior to employment. Applicants may be asked to complete a driving test with a certified instructor to make sure they understand and abide by road signs and set speed limits. RR conducts criminal background checks prior to employment and reserves the right to conduct drug testing during both the application process and the course of your employment with us.
Friendliness and good communication skills are essential—our Drivers generally spend at least half of their workday interacting with Clients and the general public, and they represent our brand, staff, and values every single day. RR drivers should always remain approachable and pleasant, even when pick-up conditions are not (it happens!).
Attention to detail (i.e. directions, addresses, delivery instructions, etc.) is crucial—getting lost is not an excuse for a missed pick-up.
Good hygiene is important, too! Remember, drivers are literally the face of our company.
Lastly, Drivers need to be excellent time managers—we expect you to be punctual, but not to rush.
Contact
For more information or to apply for full- or part-time Driver, please call us at 214.566.3025 or email Maria at maria@recyclerevolutiondallas.com. Thanks!